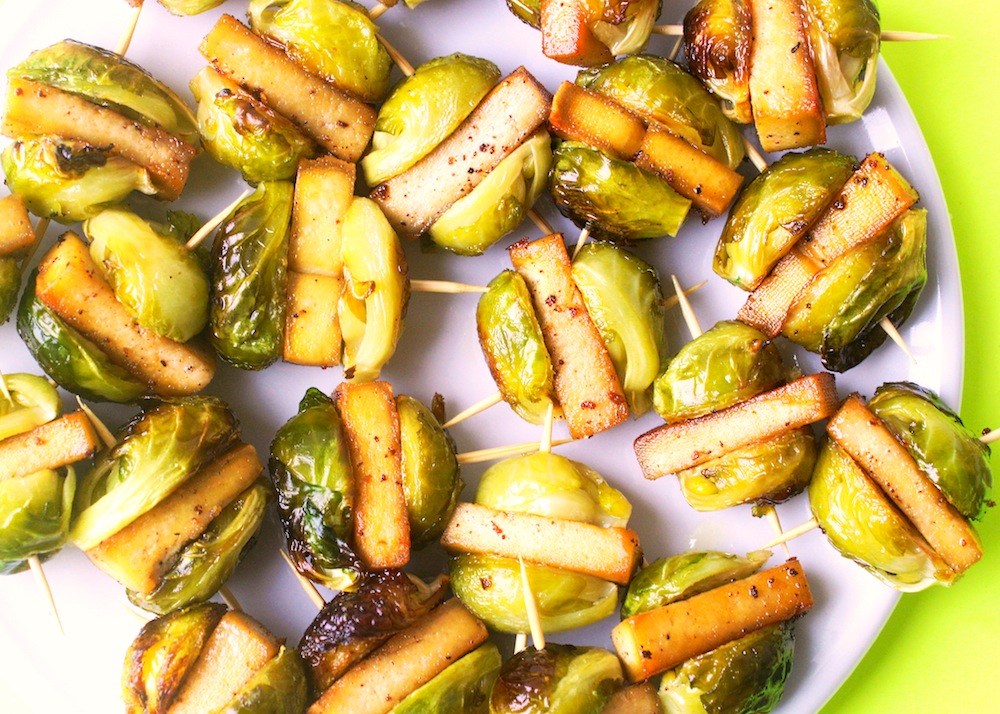 These Brussels Sprout and Maple Glazed Tofu Bites are a no-fuss finger food that are easy to pick up and chow down. Perfect for holiday socializing and catching up. There is no better time to enjoy Brussels sprouts than right now as they're in season and rich in rejuvenating, healing nutrients. Brussels sprouts are a part of the cruciferous vegetable family (which include broccoli, cauliflower, cabbage, kale) and contain vital cancer-fighting components that offer powerful protection against carcinogens. The compounds found in these vegetables support the body's natural detoxification process, helping to rid it of cancer-causing agents in our food, water, and environment. Organic tofu adds a protein punch to this snack and will help stave off cravings and keep you feeling energized and satisfied. Enjoy these bites dipped in plain organic full-fat Greek yogurt or nosh on them plain as they pack a festively flavorful punch.
Ingredients:
Brussels Sprouts: 1 lb, rinsed
Extra-Virgin Olive Oil: 2 tbsp
Himalayan Pink Salt & Black Pepper: 1 tsp
Organic Tofu (preferably sprouted): 1 Block
Raw Maple Syrup: 2 tbsp
Low-sodium tamari sauce: 1 tbsp
Coconut oil: 1 tbsp
Garlic Powder: 1 pinch
Himalayan pink salt and black pepper: 1 pinch
Instructions:
Preheat oven to 400.
Slice the Brussels sprouts in half, lengthwise. Don't trim the ends, as they'll hold together better with them.
Toss the sprouts on a rimmed baking baking sheet with the oil and a good sprinkle of salt and pepper.
Bake for 40 minutes total but be sure to check them half way through. Toss them around too for even baking.
In the meantime, cut tofu into thick, small strips, place them in a bowl and toss them in maple syrup, garlic powder, salt and pepper. Heat a medium skillet over medium-high and top with coconut oil. Add the tofu and sauté for about 5 minutes, until nicely golden and crispy. Set aside.
Remove the sprouts from the oven and let them cool about 5 minutes, or until you can handle them.
Using toothpicks, slide on a sprout half, followed by a tofu piece, then bookend it with another sprout half.
Arrange on a platter and serve.
By: Beata Rydyger BSc RHN, She Lives Clean
Banner Control Plugin Activated!