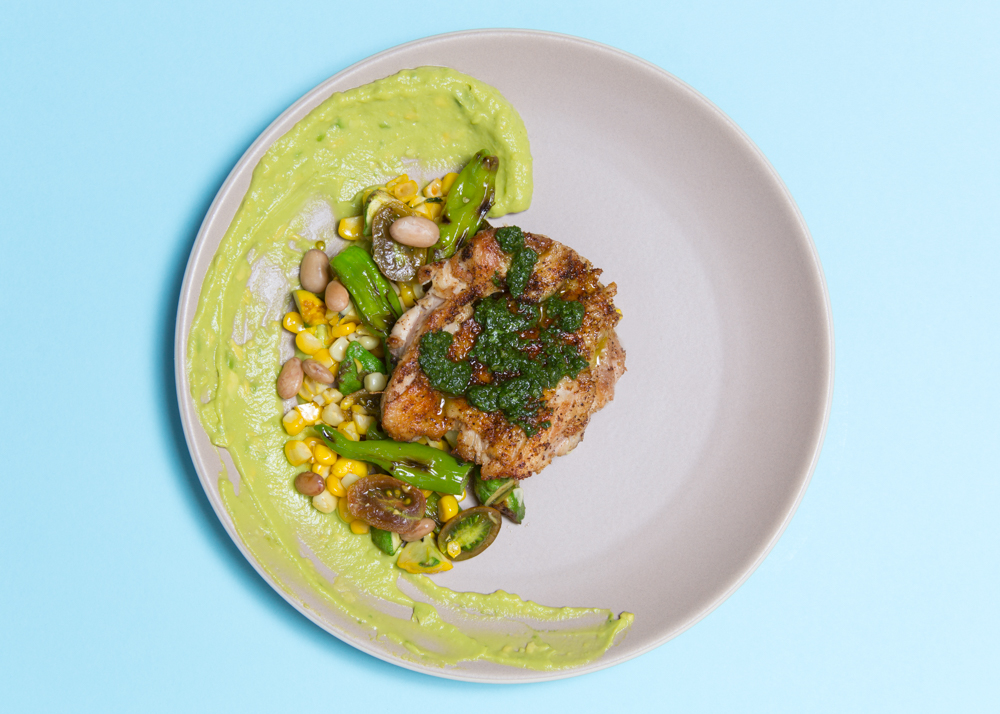 The perfect summer dish that's both high in protein and full of nutrients. The fresh crisp consistency of the seasonal succotash, compliments the creamy avocado puree, and the savory tender chicken leg. Tasty and satisfying without weighing you down with empty calories. The best part about cooking with high quality organic free range chicken is that you don't have to worry about separating the skin while you're eating, that's where a ton of flavor from the cast iron and seasoning live. Don't be afraid to get creative with your plating technique and impress all your friends! Feel free to swap out vegetables for what's in season at your local farmers market.
Ingredients:
4 Whole Chicken Legs, deboned and seasoned
3T Fennel Thyme spice blend
2 Avocados, seed and stem removed
¼ c Cold water
2 Limes, for juice
1 Lemon, for juice
1 Jalapeno, vein and seeds removed
1tsp Thyme, picked
1tsp Oregano, chopped
3 Corn, kernels removed
¼ lb Shishito Peppers, stems removed
¼ lb Cranberry Beans cooked
¼ lb Baby Summer Squash, cut into ½" pieces
1c Cherry Tomatoes, halved
¼ Red Onion, thinly sliced
½ c Basil leaves, picked
½ c Parsley leaves, picked
2 cloves of garlic
¼ c + 4T Extra Virgin Olive Oil
Salt
Pepper
Directions:
Avocado Puree
Place the avocado, lime juice, water, jalapeno in a food processor or blender. Puree until smooth and season with salt and pepper to taste.
Basil Pistou
Put the basil, parsley, garlic, 1/4 c extra virgin olive oil in a food processor or blender, puree until smooth, season with salt and pepper and add a squeeze of ½ a lemon.
Succotash
Heat a large sauté pan over medium heat. Pour 2T of extra virgin olive oil then add shishito peppers and cook until blistered. Add the squash, corn, thyme and oregano. Once the corn and squash are almost tender, add the cranberry beans, cherry tomatoes, red onion and sauté for about 2 minutes or until the tomatoes are lightly cooked. Add a squeeze of ½ a lemon and season with salt and pepper. Remove from heat.
Chicken Leg
Season both sides of the chicken with salt, pepper and the fennel thyme spice mix. Heat a large cast iron over medium-high heat, add the remainder 2T of extra virgin olive oil, then place the chicken skin side down onto the pan. Cook for about 7 minutes or until the skin is golden brown, then flip the chicken and cook for another 5-7 minutes. Remove from heat and let rest for about 1-2 minutes.
Recipe By: Catty Boom Batty
Banner Control Plugin Activated!