Citrus is in season so why not celebrate by combining all its diverse colors and tastes together. At the Hollywood Farmers' market we found all the blood oranges, navel oranges, tangerines, grapefruits, and meyer lemons at farmer Laura Ramirez of J.J.'s Lone Daughter Ranch which is certified organic. She also grows a wide variety of avocados so we decided to add a beautiful fuerte avocado to ground the fresh juicy flavors of all our specialty citrus. Traditionally citrus fruits and avocados grow together so maybe that's why they compliment each other so well.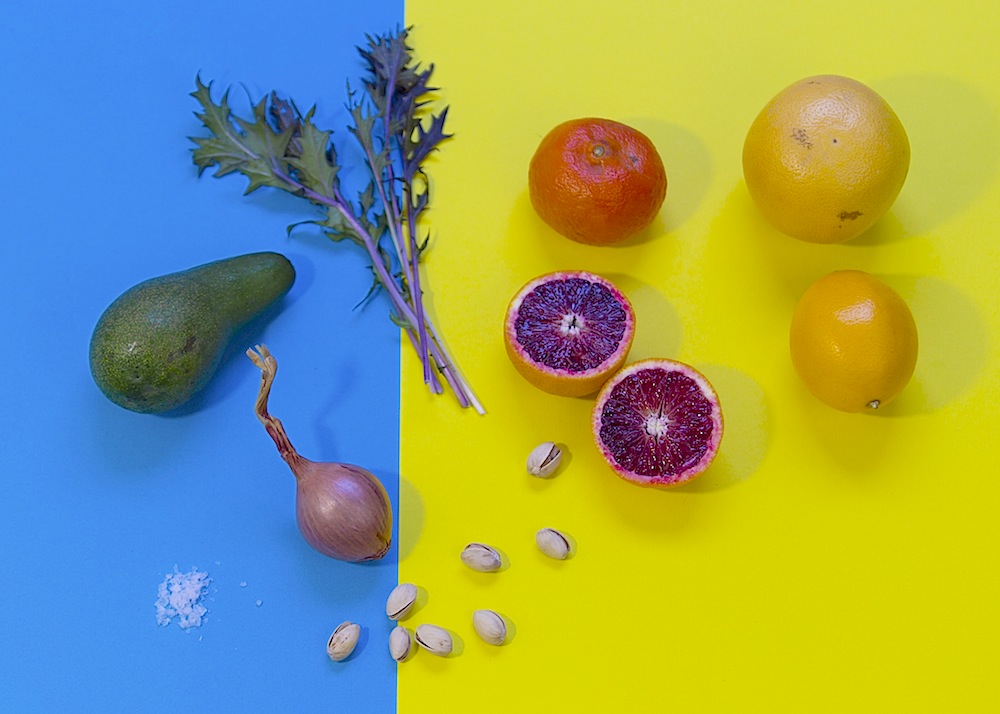 Ingredients:
2 navel oranges
2 tangerines
2 blood oranges
2 pink grapefruit
1 meyer lemon, thinly sliced crosswise with the skin on
1 fuerte avocado, peeled, pitted, and thinly sliced
1 shallot, very thinly sliced
¼ c meyer lemon juice
½ c extra virgin olive oil
1 bunch of mizuna
½ c pistachios, shelled, toasted and lightly pounded
salt
Instructions:
Using a sharp utility or pairing knife cut off the top and bottom of the oranges, blood oranges, and grapefruits so that it sits flat on the cutting board. Cut down the side of each fruit curving the knife to follow its natural line, remove the skin and white pith. Place the fruit on its side and slice crosswise to make pinwheels, about a ¼ inch thick.
Peel the tangerines and with a paper towel gently rub off the pith and pull each piece apart.
To make the juicy dressing, put the meyer lemon juice and any left over juice from all the citrus into a bowl. Slowly whisk in the extra virgin olive oil and season with a pinch of salt.
To assemble the salad, put the citrus, shallots, avocado and mizuna into a large bowl and add a pinch of salt. Pour over the dressing and toss very gently. Layer the ingredients onto a plate and garnish with pistachios.
Recipe x Catty Boom Batty
Banner Control Plugin Activated!